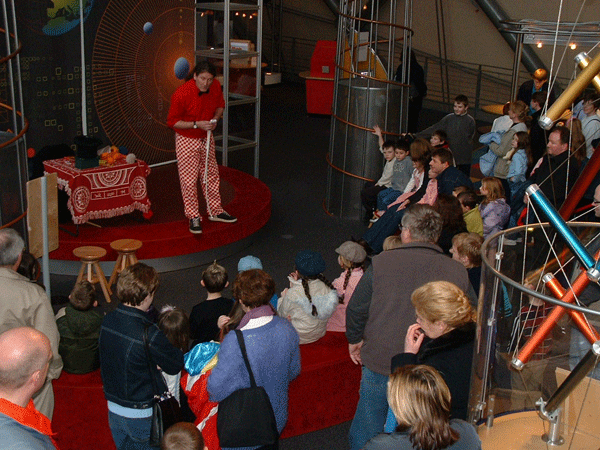 M

y skills include: Juggling (funny: hedgehogs, haggis, turnip, potatoes, balls, clubs and dangerous: knives, baseball bat, axe, machete, baseball bat, fire), Magic (close up and stage),Balloon Modelling, Penny-Farthing, Unicycle, Roller Bowler (a plank balanced on a tube), Hat Manipulation, Whip Crackin

g

. I can perform as a juggler or magician. Normally I would combine the two with the other skills that I have.

Experience: I have been a professional juggler magician since 1992 and full time since graduation from Glasgow School of Art in 2000. I started juggling when I was the manager of a kite and juggling shop (I was a kite flyer at the time). I was first offered work doing juggling workshops, I then met an agent/performer at a holiday camp. He offered me my first performing jobs mainly in shopping centres doing walk-a-bout. From there I progressed to doing juggling shows and increased my repertoire to include magic, balloons and all the other skills. I have been continually developing my shows to a level were I can perform juggling or magic to the most demanding of audiences (13 year old Glasgow boys). I have worked: in top hotels, restaurants, private and public functions, car show rooms, shopping centres, Murrayfield, Hampden and Parkhead football grounds as well as other sports events, a nuclear power station open day, exhibited in Edinburgh Zoo, Stirling, Edinbugh, Dean Castles, STV, BBC, Cannel 4, Discovery channel (Canada) and loads more. Graham has been the main organizer of 5 Scottish Juggling Conventions in Glasgow and one British Juggling Convention in Perth. So knows and sympathises with the problems of event organising.

What sort of venues: I change my act to suit the venues, be it a stage show in a theatres, hotels or an outdoor gala day. I have my own PA with two 200 watt speakers, radio microphone and CD/mp3 player. The PA is adequate for most small to medium size halls, I use it for school shows with an audience of 400 kids. Larger halls and events tend to have their own system. I now have a battery operated street amp so can do a show anywere.


Walk-a-bout: otherwise known as mix and mingle, is best suited to gala days, shop openings, or places were you do not want a static show but an entertainer moving around, interacting with the guests in smaller groups. For walk-a-bout: I tend to do close up magic, balloons and some juggling. I can also do walk-a-bout from a penny-farthing or should that be called ride-a-bout. I ride about and jump off the penny farthing, do some magic or chat, I even put kids on the penny farthing and push them around giving them the experience of a lifetime. This is also a good photo opportunity for the parents.


Shows: Shows can either be stage or street type events. Street just means no stage and totally surrounded this can be done in the middle of a field. I can vary the shows for kids to adults combining juggling and magic. I tend to prefer a mix of the two, to a level where the whole family would enjoy it. You will have to let me know if you would prefer me not to use knives, fire whips etc.
For more information or to book Graham please phone 01236 782 649 or E-Mail


Graham Benson, The Magic Juggler, magic, juggler, Scotland, Juggler in Scotland, family entertainer, funny show, fire juggler, juggling fire, clowning, circus, circus skills workshop, penny farthing, unicycle, unicycling, mini bike, clown bike, walk of death, the rabbit must die, whip cracking, whips, street show, walkabout, walk a bout, close up magic, table hopping, balloon modelling, central Scotland, Edinburgh juggler, north Lanarkshire, circus school, Fuzzy, dangers juggling, stage show,circusschool.co.uk, Diabolo, fire poi, juggling workshop, Graham, Benson, fun show, family show, roller bowler, stilt walker, parade, gala day, balloon modelling, Glasgow, Stirling, Perth, Aberdeen, Fife, North Lanarkshire, North Scotland, Central Scotland, South Scotland, Christmas Show, School Show